About Us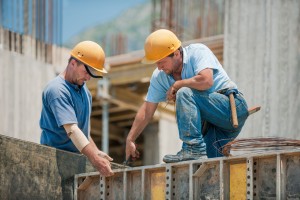 Our goal is to make our customers happy and to build a lasting, professional relationship. Word of mouth is the number one form of advertisement, along with honesty; these are the foundations for any business and family.
Our Business takes pride in knowing that you get what you pay for, no less! We believe having a conscience is still a good thing. We have shown that we do good, consistent work.
Our staff is dedicated to making your project something you will always admire. We are very proud to be able to present these testimonials from some of our customers to you.
Our traditional concrete services include garages, driveways, additions, demolition, basements and removals. In addition, we offer block and stone seat walls, fire pits and retaining walls.
All of our work is done per building and local codes. We are licensed, bonded and insured. We also take pride in our commitment to customer service and the highest quality workmanship.
The majority of our employees have been with us for more than 10 years and are skilled craftsmen with passion for consistently providing a superior concrete product. In addition, we also maintain a company leadership policy based on integrity and quality control management. This produces 100% customer satisfaction.
What we find equally important to the state-of-the-art technology and high quality Concrete services that we provide, is our commitment to after-sales service, technical support and parts support.
We provide friendly, personal service across a range of concrete products for any type of project. We can also supply a variety of standard concrete mixes in any volume, delivered straight to the construction site, in one of our many transit mixers.
We serve both the residential and commercial population. Our work consists of all types of masonry work, ranging from block work, brickwork, flat concrete, exposed aggregate, stamp concrete, brick pavers, steps, patios, driveways and many other types of masonry work.
We use nothing but authentic materials and are always proficient in keeping a clean and safe job throughout construction. Contact us for more information at (713) 352-1833.