Concrete Patios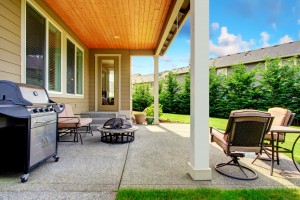 Concrete is tough, durable, and incredibly versatile. A concrete patio is the perfect way to elevate the look of any landscape while maintaining the elegant and functional image of your outdoor living space.
A patio is the one part of your home that can boost its curb appeal, while also providing a great place for current homeowners to relax outside.
Many homeowners waver when choosing a material for their patio because each material has its own advantages and disadvantages.
A concrete patio can transform your backyard into a luxurious extension of the house. Believe it or not, the concrete patio is the new favourite room to relax, entertain, and cook in. It's the heart and soul of your own private backyard resort.
Uneven concrete patios can be unsightly and can pose a danger to your family, neighbours, and visiting friends. If your concrete patio or porch has become uneven, we can offer effective alternatives to the expensive and interruptive tear out and re-pour method of repair.
That old patio can now easily be transformed into a beautiful patio that will make you the envy of the neighbourhood. Most repairs can be made in one day, at a price that will leave you smiling.
"NEIGHBORS' ENVY – OWNERS' PRIDE"
"Houston Concrete Company"'s patio repair methods are a cost effective way to improve the looks and the value of your home. We have the expertise to carry out your concrete patio repair project from the beginning stages to completion.
We offer a wide range of customizable concrete patio services and designs to choose from. Whether you're looking for stamped concrete to mimic the look of brick, slate or cobblestone, or colored concrete to complement an eye-catching design, we offer the concrete expertise you need to bring your dream patio to life. With our wide variety of concrete colors and stamp patterns to choose from, you're sure to find just what you're looking for.
 In addition, if you want a concrete patio that has all of the finishing touches, we can even install custom-built accent borders.
Accent borders are a wonderful way to increase the beauty and value of your concrete construction while protecting the surrounding greenery from potential traffic and damage.
Between our incredibly professional, friendly technicians, our accurate and timely work estimates, and our reliable and durable concrete, our services will definitely leave you happy.
We take a lot of pride in doing everything we can to fully understand your goals and ideas so we can make sure that you're able to realize your dreams. Don't settle for any less than the best for your concrete patio.
Just imagine your next summer evening spent out on your new patio. Your guests will envy the new, fantastic addition that  can easily be adapted to suit your every need. Whether you want to set up the grill, an outdoor dining area, or even play some basketball, your custom patio will be designed exactly to your specifications.
We will explain exactly how the job will proceed so that you will have confidence in our services and know what to expect. Give us a call today at (713) 352-1833.